How do I use eBooks in liquid.reader format?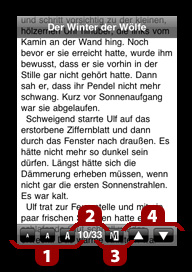 (1) To select the text size touch the desired magnification button (small, medium, large). The software will automatically display the page that best matches your last reading position with the new text size.
(2) The current page and overall page count are displayed here. (Different text sizes and device orientation will influence these numbers.)
(3) Touch here to switch color mode. You can read black type on a white screen or white type on a black screen.
(4) Use these directional buttons to scroll one page up or down.
You can also scroll fluidly through the text by directly moving the "paper" up or down with your finger on the screen.
Hitting the status bar of your iPhone™ will bring you right back to the first page of the document.
The liquid.reader allows for reading in portrait or landscape mode. To switch format, just rotate your iPhone to the desired position. The software will automatically adjust orientation and display a page that comes close to your last reading position.
The current page, choice of text size and color mode are automatically saved upon leaving the eBook and restored when getting back to it again.

Apple, the Apple logo, iPod, and iTunes are trademarks of Apple Inc., registered in the U.S. and other countries. iPhone is a trademark of Apple Inc.